The Web was established ahead of the curve. Now, we are sustaining each other while we individually — yet collectively — do what's essential in our lives to flatten the curve.
Before we ever had an idea we'd spend our spring sheltering in place, The Web was already proving that sense of place doesn't rest in a physical location.  It's about growing our reach, weaving our abilities and demonstrating that the community-driven, work-life blend works best when WE have a WEB we work together.
In all this uncertainty, The Web is what sticks. Our stories vary. And none come easy. But when we weave our essences with each other, we've created something so strong that when we return to whatever is next, we're resistant to the storms.
Let's be here for it. Let's be here for each other. Let's work our Web with the following May programming opportunities.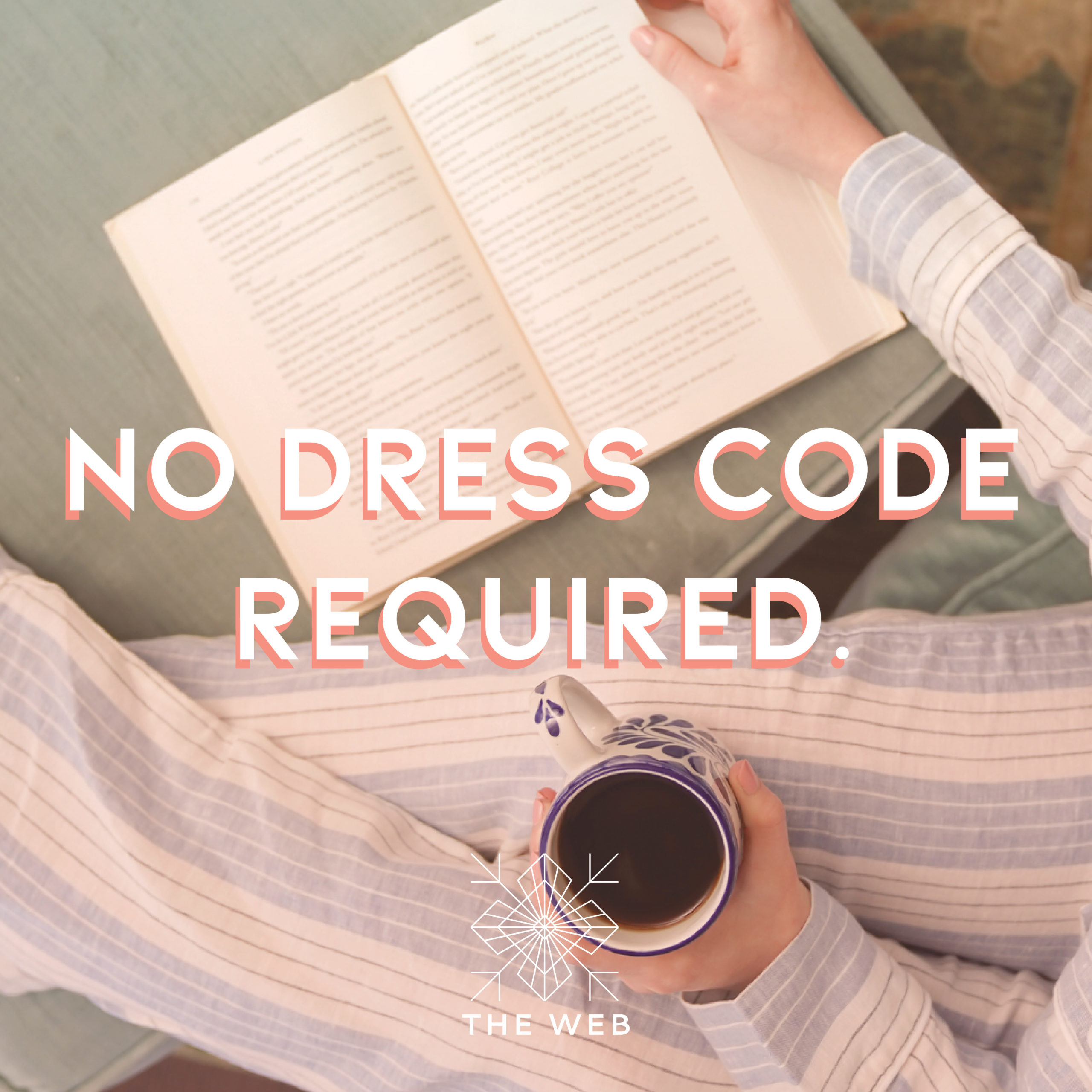 May 10, all day
Mother's Day on the Porch
Here's your reminder that Mother's Day is here. And if you are an IRL Web Member, don't forget the Clubhouse is available to you. Go to members.workourweb.com, and reserve the porch overlooking beautiful Washington Park for your private affair. That means you can grab to-go from Downtown Macon restaurants and enjoy the porch with your closest loved ones. OR reserve the space for some well-deserved solo time. All we ask is that you please practice safe and considerate social distancing and clean up after visit  for the safety and comfort of other members who may be using the Clubhouse. To reserve, go to: members.workourweb.com.
As an extra special treat, Macon Magazine has stocked the fridge with wine as a toast to all the mamas. If you self-pour, please use a disposable cup and make a note on the wine bottle to when the cork was last opened. 
Fellowship
Thursday, May 14, 8pm
NEW! Web After Dark with Amanda Pope
Amanda Pope has been the queen of Surprise Parties in the Central Georgia area for 17 years. She'll join us for some real, real girl talk. Grab a glass of wine (or whatever) and let's get honest, laugh and lament about at-home intimacy in the age of quarantine.
Business Support
Friday, May 15, Noon
Member Lunch with Bethany Rogers
NewTown Macon's Director of Business and Real Estate Development Bethany Rogers will join us to share expert advice on the latest in economic recovery options for business owners, organizational leaders and self-employed. She's here to answer your questions, so use this opportunity to share the triumphs and challenges we are facing in our individual economies. Bethany is here to provide guidance!
Mental Support
Monday, May 18, 11 am
Monday Motivation with Nancy Dozier, Ph.D.
Let's have a side of self-help with our morning coffee! Nancy Dozier's passion is to bring healing to people who have endured great hardship and restore wholeness and joy to their lives. As a NCCA Licensed Pastoral Counselor and Ph.D. in Clinical Christian Counseling with Northpoint Christian Counseling, Nancy helps adults, families, teens and children navigate troubled times, and find healthy perceptions of themselves. Nancy will be our guest during Morning Motivation to provide insight and inspiration on living authentically during these trying times.
Business Support
Friday, May 22, Noon
Member Lunch with Jennifer Abshire
Jennifer Abshire is one of Georgia's leading public relations executives. Founder and CEO of the Savannah-based Abshire Public Relations, Jennifer has provided counsel, from strategy to execution, to more than 100 companies in her career. Jennifer will join us to discuss strategies for crisis management, calls to action and best practices for sharing our stories of resilience and recovery. Jennifer is also the ultimate CEO, mom and respected mentor of your fellow Web members. She's been watching — and loves what we're doing!
Fellowship
Thursday, May 28, 8 pm
Member Moment with Sheila Mae Keane
Web Member Sheila Mae Keane is a full-time artist and recovering engineer who worked for the Department of Defense and "secret" programs for the U.S. Air Force. Today, she is creating art with her A Girl Like Me brand. Sheila Mae's work is representing girls and women's ambitions, thoughts and dreams, inspiring us to lead with our unique talents and not trying to hide or conform it to any stereotype. Let's gather online and learn and lean in on each other as She shares her story and art inspiration found within us all.